My illuminated sculptures possess an unmatched softness and lightness and evoke pebbles polished by the backwash, in a perfect harmony with my aquatic theme. They are transversal pieces of art, both terrestrial and marine, monumental and yet movable.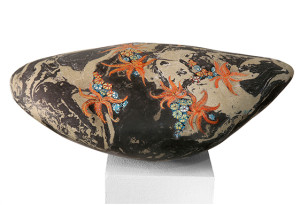 Illuminated stucco sculpture
(gold and silver leaves on mordant, ink and gouaches).
Diameter: 80 cm
By its shape and colour, this sculpture reminded me of the tenebrous sides of a rock, and in the crevices suggested by the marbling effect, a colony of starfishes found a place to nest.The intense colours of the patterns blossom in the obscure seabed.
Ref: GAB 25